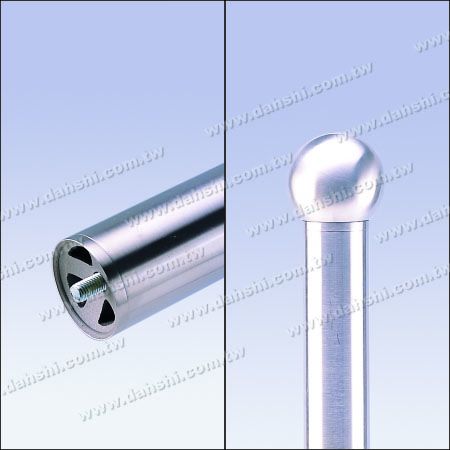 Connector
Connector of Stainless Steel Ball and Pipe
Here Stainless Steel Connectors use a simple way to connect and fix on round tubes. Drill screw holes aside to fix, or using Stainless Steel fixing glue to fix, both ways are part of products design point to reduce welding and polishing working processes and make outward appearance perfect.
---
Hot Products' Catalogue
The catalogue offers the best sale of stainless steel handrail accessories.

Download
47 Years Connector | Metal Railing and Accessories For Pipe Manufacturer | DAH SHI
Located in Taiwan, Dah Shi Metal Industrial Co., Ltd., since 1973, is a Connector | stainless steel metal railing and accessories for pie manufacturer. From stainless steel railings for balcony stairs to metal railing fittings, our one-stop manufacturing includes ultrasonic auto clean machines, CNC machines, bending pipe machines, argon welding machines and so forth.
DAH SHI's stair railing and stainless steel fitting design and manufacturing continuously gaining visibility from worldwide buyers. Granted hundreds cased of patents and possessing over 20 cases of patents within the term of validity, DAH SHI's stainless steel handrail and fittings are produced with professionalism.
DAH SHI has been serving customers high-quality metal railing and pipe accessories, both with advanced technology and 47 years of experience, each client's demands are met.