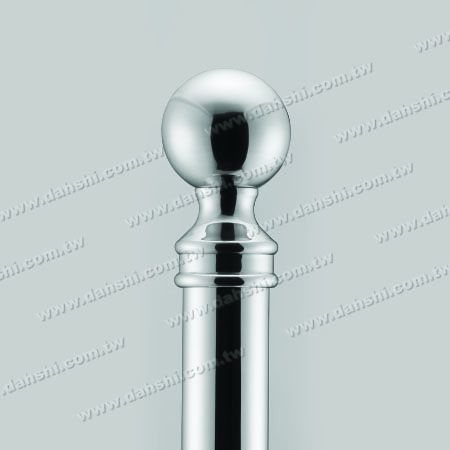 Stainless Steel Ball and Capital for Handrail
Stainless Steel Ball and Capital for Handrail
In this category, we provide different sizes of Stainless Steel hollow balls and also supply various sizes of round tube connectors. The connectors can reduce working processes or welding and polishing. We stamp thickness 1.2mm Stainless Steel sheets to make hollow balls, and weld screw bolts at one side in order to connect round tubes. You either can also purchase suitable accessories to connect round tubes or weld washers and nuts inside round tubes, then connecting them by fixing screws.
---
For Stainless Steel material, you can have #304 or #316. #304 is for indoor or dry weather environments; #316 is for humid environments, such as seaside, swimming pool, and bathroom, etc.
Stainless Steel surface polish, we can do customized based on customer's samples. Different surface polishes have different visional effects. For hotels or reception salons that need mirror polish and titanium coating to give a luxury feeling. The satin and black color coating that more suitable for designer restaurants or sports shops. Generally speaking, there are no standard answers for surface polish which is all about interior design overall and personal preference.
Hot Products' Catalogue
The catalogue offers the best sale of stainless steel handrail accessories.

Download
47 Years Stainless Steel Ball and Capital for Handrail | Metal Railing and Accessories For Pipe Manufacturer | DAH SHI
Located in Taiwan, Dah Shi Metal Industrial Co., Ltd., since 1973, is a Stainless Steel Ball and Capital for Handrail | stainless steel metal railing and accessories for pie manufacturer. From stainless steel railings for balcony stairs to metal railing fittings, our one-stop manufacturing includes ultrasonic auto clean machines, CNC machines, bending pipe machines, argon welding machines and so forth.
DAH SHI's stair railing and stainless steel fitting design and manufacturing continuously gaining visibility from worldwide buyers. Granted hundreds cased of patents and possessing over 20 cases of patents within the term of validity, DAH SHI's stainless steel handrail and fittings are produced with professionalism.
DAH SHI has been serving customers high-quality metal railing and pipe accessories, both with advanced technology and 47 years of experience, each client's demands are met.